I don't remember the first time I heard the words "gypsy brewing"— but I became familiar with the concept through Evil Twin Brewery.
What is gypsy brewing?
Before I continue, let me explain what gypsy brewing means. The concept is fairly simple: a gypsy brewer is someone who doesn't own their own brewery but borrows space from other brewing establishments to brew their beer.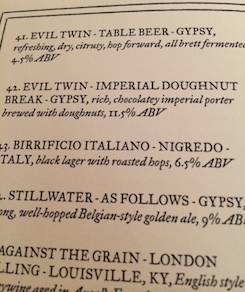 I first remember being confused when seeing Evil Twin as listed as a South Carolina beer. I knew that the owner was from Denmark and that he, Jeppe Jarnit-Bjergsø, co-established a bar here in New York city called Torst. So why South Carolina? I even went down to South Carolina to Homegrown Brewhouse which sells (almost) exclusively South Carolina beers and saw "Evil Twin" scrawled in chalk on the wall.
According to the New York Times, Evil Twin rents out 80% of the space at Westbrook Brewery, which is located in Mt. Pleasant, SC. A look at Westbrook's beer list and there is no mention of Evil Twin. However, because of the brewery's physical location, Evil Twin is perceived as a South Carolina beer… at least those which are actually brewed at the Westbrook facility. They also brew elsewhere (Connecticut, Denmark and Scotland to name a few) so these specific beers are categorized as such.
Why gypsy brew?
Cost. Starting a brewery can be extremely expensive and in the New York metro area, it can cost upwards of $1 million to establish a brewery.
Some also argue that once one owns a brewery, that person never gets to create anymore and spends most of his/her time doing accounting work instead of doing what they love. Not having to worry about the logistics of the brewery frees one up to create new beers.
However, there have been arguments against gypsy brewing, the largest of which is that the beer loses its "locale". In other words, when you think of Left Hand Brewing Company, you think Colorado. Abita is Louisiana. Dog Fish Head is Delaware. What is Evil Twin? Denmark? Brooklyn? South Carolina?
Further pros and cons
Pros
Dedicate time to creating new flavors of beer instead of maintaining a brewery.
Enables brewers to build their brand and save on costs so that they can one day finance their own brewing facility.
Most brewers brew a variety of different types of beer just to appeal to a wide enough audience to generate enough revenue to cover operation costs.
Cons
The beer loses its "locale"
Hard to guarantee consistency with the fluctuating availability of ingredients from season to season or year to year.
The master brewer may be in a position where he/she is providing a recipe to a brewery's on-site staff to produce.
Keeping in mind these pros and cons, whether you're an entrepreneur looking to finance your own brewery one day, or an out of the box creative dreaming up new flavors of beer—if done correctly, gypsy brewing can be a means to a deliciously fermented end.