Camembert is a bloomy-rind cow's milk cheese, which comes from the Normandy region of France. Most people are familiar with this cheese, but oftentimes confuse it with Brie--which is wildly more popular. If you are one of these people that has a hard time telling the difference between Camembert and Brie, read this article on disam-brie-guation.
(cover) Camembert centre
by
Richard North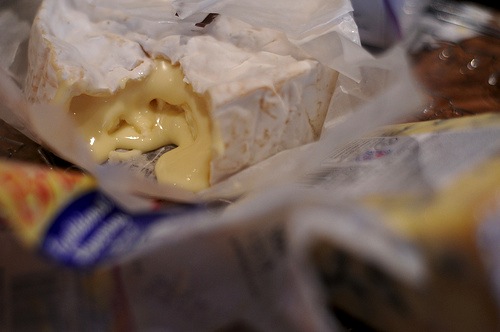 (left) Camembert
by
Steven Lilley
A tale of two cities (Brie and Camembert)
Much like nations, most cheeses have a founding myth--and, this one is no exception. Supposedly in 1791, a farmer from the village of Camembert named Marie Harel, heroically saved a recalcitrant priest from the guillotine by hiding him at her residence. The priest, who was from the town of Brie, is thought to have shared cheesemaking tips with Madame Harel, which she adopted and led to the invention of Camembert as we know it.
Camembert
by
Rhian
The characteristic wooden box was invented in 1890 by an engineer named M. Ridel. The box allowed for the cheese to travel longer distances, particularly overseas. Another interesting fact is that Camembert was distributed to French soldiers during World War I. For more information about the history of this cheese, check out this article.
Camembert, like many other cheeses benefits from protected designation of origin, under the name Camembert de Normandie. In France, this designation is called Appellation d'Origine Contrôlée (AOC), and guarantees the following:
The milk is sourced and cheese is produced in a specific geographic region.
The cheese production methods are strictly dictated by tradition.
The size and shape, among other characteristics, is strictly defined.
There is government quality control, which assures that all of the above AOC requirements are upheld.
Camembert Fundido
by
Eduardo
So how does it taste?
Camembert has almost the identical recipe as Brie, so you can expect a very familiar delicate salty taste. If you get one with a strong ammonia smell, it's probably overripe. Depending on just how strong, you can probably still eat it, but you'll want to air it out before you dig in. As with all cheeses, you'll want to serve Camembert at room temperature. Camembert is great for baking, so if you have an oven, some nuts, and a baguette you can make a really great meal out of a baked Camembert.