You certainly have many options for creating a special day for you and your sweetheart. But, if you really want to impress, celebrate your love with cheese. Most people already associate Valentine's Day with gourmet gifting; and, probably the most neglected gourmet food on this day is cheese--probably because most people just don't know how to incorporate cheese into their plans. That being said, here are five ways to make this Valentine's Day a truly cheesy one.
Give the gift of cheese (1+ people)
Whether you're treating yourself, your honey, or your entire office--cheese is love: spread it around. Teddy bears and and chocolate hearts are wonderful shows of affection if you're in high school. Giving gourmet makes you look smart; and, the gift of cheese will really step up your game. I mean, doesn't a heart shaped cheese fulfill both the "tacky" and "cheese-like" definitions of cheesy? It's a no brainer. What is more, Cheese retailers take out the guesswork of buying the right cheese, offering appropriate Valentine's cheese collections. Try Cowgirl Creamery or this site.
Eat cheese with your chocolate (1+ people)
Next to Halloween, Valentine's Day is one of the biggest chocolate holidays. That being said, it is quite likely that you will have some chocolate come February 14th. If you're like other average Americans, you probably can't imagine that chocolate and cheese are eaten side by side; but, it is becoming more and more popular. In fact, most cheese stores are really pushing chocolate and cheese pairings--such as Murray's Cheese's collaborative effort with Mast Brothers Chocolate to bring you Love at Mast.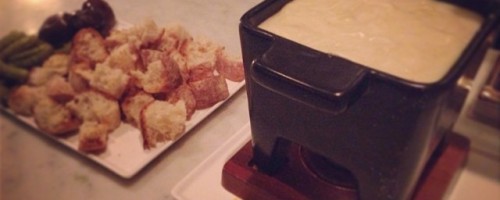 Intimate fondue for two (2 people) Being winter, it's not likely that you'll be able to have a romantic wine and cheese picnic outdoors. Luckily, nothing says I love you like bringing out all of that fondue equipment you bought that one time, ten years ago, and haven't used since. Breathe life back into your relationship with some ooey gooey [cheese]. Pop open a bottle of wine, melt some swiss and gruyere and create a magical fondue rendezvous.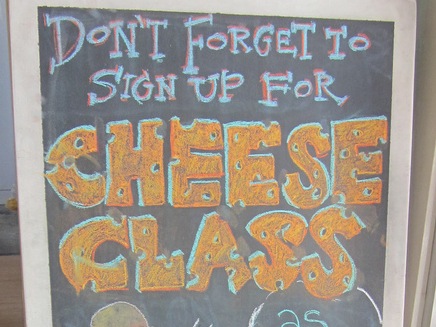 Infrogmation of New Orleans
Fall in love again, at a cheese class (2+ people)
These days, Americans are becoming more and more interested in cheese, and gourmet in general. Luckily there are local experts who devote their lives to teaching others about cheese. You'll most likely learn about pairings: wine and cheese, chocolate and cheese; beer and cheese--but also, how it's made and how to eat it properly. What could be more romantic than making some mozzarella with your valentine?
State Farm
Get your partner in the mood (2+ people)
I mean, after all, isn't that what couples do on Valentine's Day? For those of you that have a hard time swallowing oysters, or other forms of over-the-counter rohypnol, you can now turn to cheese to get you (and your partner) in the mood. It is a little known fact that cheese is an aphrodisiac. More like aphro-cheese-iac. Cheese contains just about the same amount of phenylethylamine (PEA) as chocolate, the stimulant which is believe to give us the feeling of having sex. Additionally, there has been linkage between the pungent smell of some cheeses and sexual pheromones. So, grab a nice bottle of wine and a nice fatty cheese and see what happens...
Note: If you or your sweetheart is lactose intolerant, tread lightly. Nothing ruins the mood more than an upset stomach. If you're in this boat, you might want to read this article about alternative and low lactose cheeses and then adjust the above activities accordingly.
(top)
Cowgirl Creamery